Articles
Thursday, April 9, 2015
Cognitive computing & AI can help US healthcare companies thrive
By Charles Barnett, President, Healthcare Group
Our communities, our states and our country are facing an unprecedented demand for health care, services and support for our residents who suffer from one or more chronic conditions.
As of 2012, about half of all adults, 117 million people have one or more chronic diseases. One of four adults has two or more chronic diseases (CDC)
84% of all health care spending in 2006 was for the 50% of the population who have one or more chronic health conditions.
By 2020 the number of people (adults and children) with chronic conditions is projected to be 157 million people. (Rand Corporation)
By 2020, medical information to double every 73
By 2018, 40% of primary care encounters in the U.S. will be delivered virtually. (Gartner)
The healthcare industry is experiencing an explosion of information, which has given us more opportunities than ever to treat chronic diseases, but the data overload has also meant that doctors and care providers are unable to keep up.
Patients and healthcare systems are generating millions of data points on their internal computer networks, across the Web and on mobile devices. These include patient data trapped in EMRs, lab and imaging reports, physician notes, medical device data, and streaming social data feeds.
We will need to improve the operation of our existing healthcare organizations and increase our understanding and support of person's health needs in their homes, schools, work places and all the places where they spend the majority of their time. This cannot occur without access to cognitive computing to augment our knowledge and generate insights that enable persons to make better choices that optimize their health and inform the caregiver's support for these individuals who have chronic conditions.
Cognitive computing is the next evolution of information technology that enables a new class of data interpretation and learning systems. These new systems generate analytics, insights and advice from multi-structured data that traditionally has not been collected or has been ignored. Access to this "Dark Data" will be essential to enable persons with chronic conditions to more effectively self-manage their health. Access to this "Dark Data" will also improve the clinical support for patients and business processes such as claims and billing and call center activities.
CognitiveScale captures the full range of data from a person's experience and is able to organize, access and analyze all forms of data including images, voice recordings, structured and unstructured data. The complexity and diversity of the data that captures a person's living experience must be connected to the care plans for keeping individuals healthy. CognitiveScale is able to understand these connections and deliver actionable insights to persons through our Guided Care Concierge, to care managers and providers through our Guided Care Advisor and to organizations working to improve the health of populations through our Guided Care Explorer. This level of analysis cannot be done with a slide rule, a calculator or a computer that can simply execute programs and cannot be done by simply relying on access to and analysis of structured data.
If persons with chronic conditions aspire to maintaining optimal health, they must rely on cognitive technology to augment their understanding of the choices that give them the best opportunity to ensure that their lived experience supports their clinical plans for care and helps each of them live a rewarding life.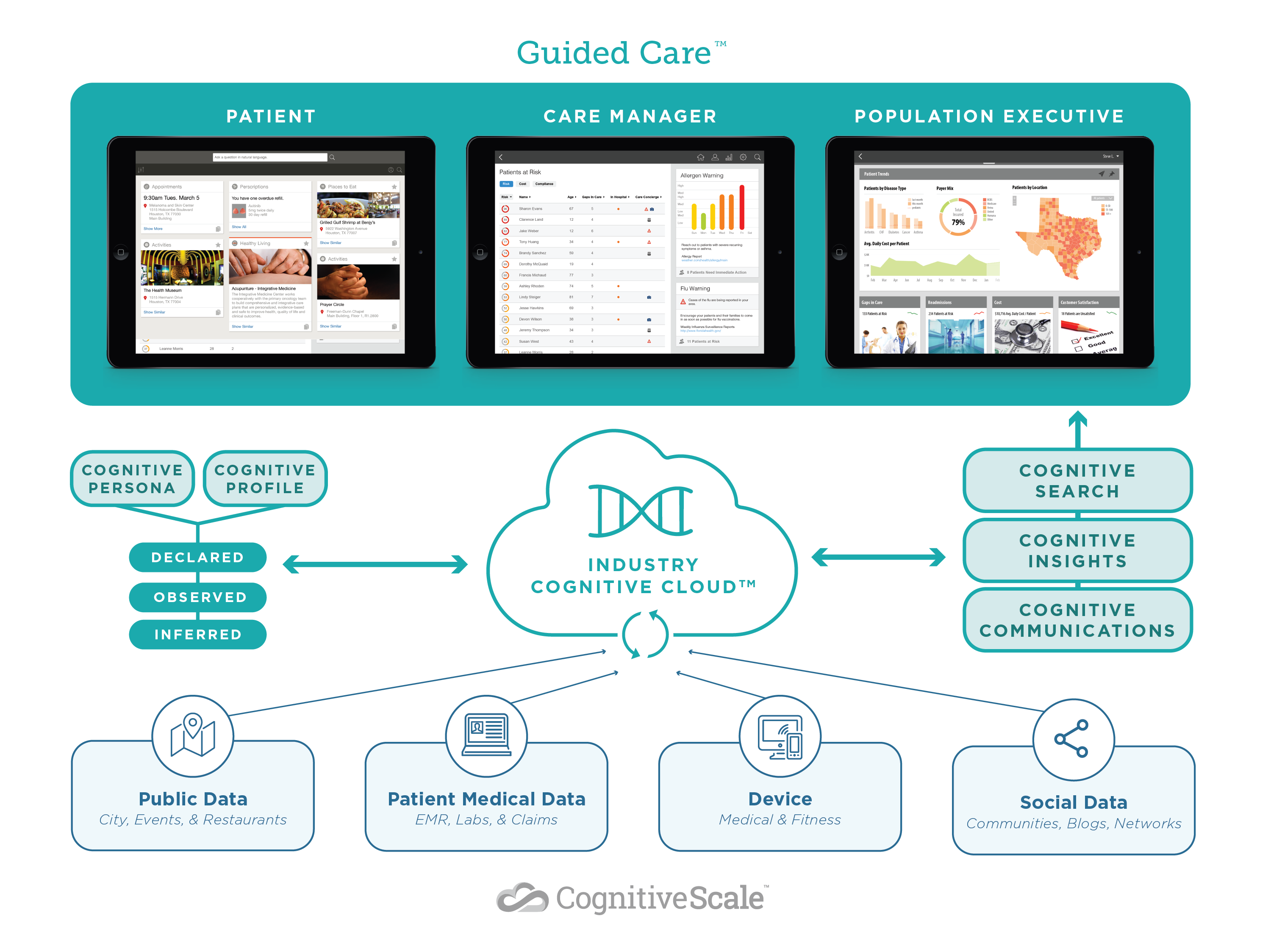 CognitiveScale's Guided Care is the healthcare industry's first Cognitive Cloud™ solution that provides person-centric insights to enhance the patient experience, manage the health of populations, and reduce costs. The Cognitive Cloud sources structured and un-structured data from public, social, private and device domains to create a highly personalized consumer-centered graph and consumer profiles (Our graph today has >500M entities). We deliver rich, composite insights that are machine generated or in response to a question asked in natural language. These insights are highly personalized based on the consumers profile and are delivered through mobile apps, web based apps, into your EMR system, or as notifications within email, texts or tweets.
We are actively working with large multi-specialty hospitals, integrated delivery networks (IDN's) and Healthcare Payors to deliver solutions targeted towards consumers and those that care for the consumers such care managers and physicians. We engage with clients through a Cognitive Garage™ that can deliver results in as little as 2-3 months leveraging your data and integrated into your systems.
Related posts
Part 1_ What is a cognitive application and how it different from traditional applications?
Part 2_ How do you handle the Big Data lifecycle, security, and sovereignty required to power a cognitive app?
Part 3_ What is the difference between Big Data Analytics and Cognitive Analytics
Part 4_ What kind of database is needed to power the Cognitive Cloud?
Share this page