Articles
Thursday, April 9, 2020
Insurers: Leveraging AI to Handle COVID-19 Impacts in the Short and Medium Term
There are several strategic and operational challenges insurers will face as a result of the COVID-19 pandemic. Social distancing has forced in person interactions to come to a standstill, making insurance sales, marketing and business development efforts more challenging. Insurers are being forced to interface with their insureds virtually, servicing them through 100% home based call centers. Increased instances of fraud and malfeasance in business dealings are a threat to the bottom line. While insurers have launched business continuity planning and crisis management efforts to negotiate the short term, they will also need to pull in their cost structures and start laying the groundwork for when the economic conditions rebound.
Leveraging advanced analytics and AI to help with COVID-19 impacts will allow insurers to handle the situation here and now, and will also help lay down the groundwork for tomorrow.
Described below are several potential opportunities that insurers should explore.
Business Problem
Challenge
Solution Requirement
How Advanced Analytics and AI Can Help
COVID-19 Claims Exposure and Claims Segmentation

Insurers may be liable to pay out for COVID-19 impacts as per their policy contracts.
Insurers are coming under pressure from consumers and governments to pay out policies even in the absence of a pandemic coverage.
Manual review of policy contract documents and interpretations for potential claims exposure is not practical given the time criticality.
There is a need to assess the claims exposure based on such factors as exclusions, insured occupation, etc.

Check for policy clauses that can impact exposure risk

"Cancel for any reason" coverage clause
Pandemic exclusions and for exclusions for viral infections such as COVID-19
Clauses for event rescheduling, cancellation and delays
Trade credit insurance coverage
Third party liability clauses
Directors & Officers liability for clauses around specific management actions

Check for insured details

Occupation and line of work
COVID-19 hotspot location
Demographics e.g., age

Document insights to review policy contract documents to extract topics and entities related to pre defined COVID-19 specific rules. Surface policies based on exposure and criticality for review.
Profiles of insureds to understand COVID-19 exposure risk based on age, location in COVID-19 hotspots, self reported COVID-19 status, etc.

COVID-19 Underwriting Exposure - New Applications and Existing Book of Business

Insurers are liable to pay out life policies in case of COVID-19 induced death circumstances.
Projecting how the diseases will progress and impact the insurer is a key underwriting function for claims reserves and loss reserve estimation.
Since COVID-19 is a novel diseases, precedents are not easily available
Underwriters need help in quickly analyzing the book of business to understand overall exposure based on different policy types and contracts

Mortality and morbidity exposure for the book of business
Model projected impact of disease progression on policy payouts, losses, and required reserves

Augment existing underwriting loss models by leveraging insured profiles based on insurer data and external COVID-19 related data sets e.g., hotspots, demographics, etc.

COVID-19 Claims Fraud

Insureds and agents are expected to increasingly resort to soft fraud practices for COVID-19 claims processing, hoping to illicitly gain from the increased claims volume, insurer business continuity challenges, etc. How can insurers process bona fide claims while catching soft fraud?

Manual review of claims documentation, contextualizing for the insured, checking for policy coverage are manually intensive
Insurers are not equipped to deliver in today's virtual work environment effectively and with speed.

Review claims documentation for duplication and manipulation
Triage claims based on projected severity and expenses for proactive review

COVID-19 Premium Relief and Offsets

Social distancing and lockdowns mean fewer people on the road, which means fewer accidents and claims.
Personal lines auto insurers are coming under increasing pressure to offer premium relief or monthly offsets to their insureds.

How does the insurance company decide who to give relief or offset to?
Factor in past driving behavior, demographics, occupation, job loss, reported COVID-19 instances, etc.
Further, there may be a way to segment the insured population such that premium relief and/or offsets are offered as a schedule based on the severity of the case.

Use insureds profiles and additional external data sets to surface profiles that should be given premium relief and/or offset
Make recommendations for proactive insured outreach as part of advocacy efforts

Call Center Augmentation / Customer Servicing in COVID-19 environment

Insurers are preparing for 100% home based call centers. However agents do not have full customer/insured context.
High call volumes and urgency of situation are putting strain on agent's ability to provide timely and effective customer service.
Further, cross channel and increasing digital interactions means service agents will need a complete real time view of customer profile.

COVID-19 related history maintained on the insured profile in a cross channel manner
Real time updates to profile based on events (submitted documentation, claims etc.)

Insured self service and class deflection capabilities enabled through intelligent agents
Agent assist capabilities to augment servicing agents to get up to date insured information
Insured profile augmented with COVID-19 data and insights
To be successful with advanced analytics and AI, businesses will need to start laying the groundwork around data and organizational AI capabilities. While it may be tempting to target data and AI capabilities as part of their cost cutting efforts, insurers should take a more measured approach. AI and related data capabilities are differentiating capabilities, and insurers should invest, not cut, resources in building data and AI capabilities to be prepared for the post COVID world. Indeed, AI can even help create a self-sustaining loop whereby tactical AI opportunities can free up capital and resources for subsequent investment.
About the Author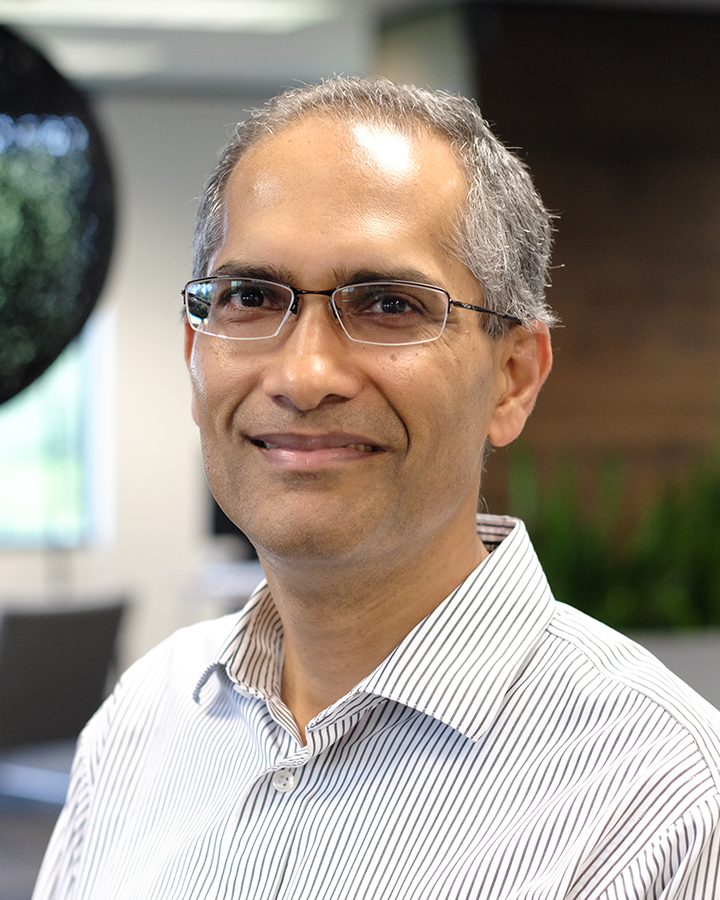 Max Kanaskar is CognitiveScale's Financial Services AI Advisor. In this role, Max works with financial services organizations (including insurance companies, banks, asset managers) on their AI journey—from strategic insight into how to develop AI competencies and centers of excellence to more tactical development of AI roadmaps and delivery of AI solutions.
Share this page