Articles
Thursday, June 27, 2019
The Effort to Be Good: Employee Spotlight with Arta Shita, Integrated Marketing & Operations Manager
For our second employee spotlight, I'm excited to let you into the life of Arta Shita, CognitiveScale's Marketing Manager (and my own)! Arta has an inspiringly confident personality, a creative outlook, a magical way of motivating people, and a heart of gold.
First question, what were you interested in earlier in life, and how did you wind up in marketing?
AS: The way I ended up in marketing is kind of unconventional, because I went into university not ever thinking that marketing was an option. Just to give you a little bit of background, I came to the States from Kosovo as a refugee during the Breakup of Yugoslavia. Ever since then, I've been obsessed changing the world somehow and positively impacting others.
I thought, "Okay, what I'm going to do is go to Kosovo and study public policy and international relations." I was sure that I was going to become a politician and positively impact Kosovo. Then, I quickly realized that politics are extremely, heavily corrupted, especially in the Balkans. That's why there's still so much turmoil. I realized that politics was not the right path for me, and needed to think of other options—which is where marketing comes in.
I was in a fantastic marketing class as part of my business management major—I loved it. I thought it was super interesting, and it was cool because people normally think of marketing as super shallow even though it's the reason so many businesses have their lights on. Marketing is essentially the voice of the company, and that is incredibly powerful. So, I decided to pursue it. My Junior year, I interned at National Instruments to do marketing at Planet NI, which was their initiative to bring their product to emerging countries for free, in hopes of educating future engineers. It was the perfect fit for me because it was both marketing, which I had recently developed an interest for, and doing good in the world. I haven't looked back since.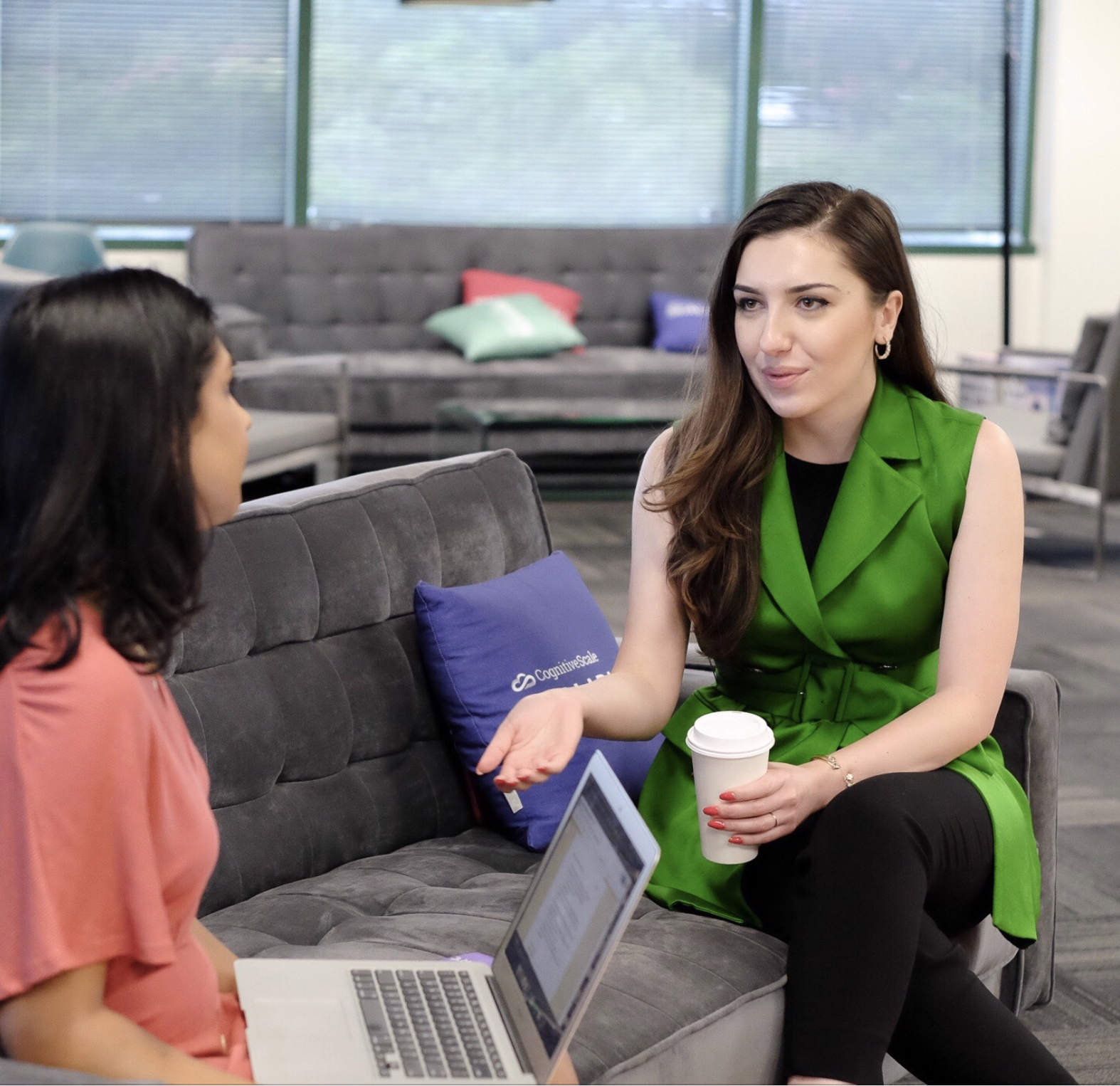 What an amazing story! More specifically, can you explain what your day to day job entails here at CognitiveScale and how it's different than your past roles in marketing?
AS: Job or jobs, because I feel like I have 10 jobs! Marketing at CognitiveScale is especially fun and especially challenging because we are in the AI space. The AI space is unbelievably dynamic, particularly in the phase that it is in right now. It's everywhere. It's impossible not to somehow get diluted in the market at this point, but with CognitiveScale, we have managed to stand out in a really massive way. We win awards all the time. We're on stages talking about our mission and product all over the world.
To be successful in this space, you have to be extremely aggressive in all your marketing efforts. Here, I do everything from demand generation to social media management to events management to partner marketing to operations. Essentially, my main goal is curating the right campaigns to target the right person to get them to realize what they can gain from CognitiveScale and how they can change the world with our AI.
The best part of my job is the creative freedom. For example, I love posting on our social platforms because I love putting a personality on CognitiveScale. Our press releases, blogs, and all of our content needs to be professional and buttoned up, and I think we can be a little edgy on social media, which is so much fun. That's where the AIGrind came to be. Our execs were out at an event, and my colleague and I pulled out my iPhone and recorded our first AIGrind episode, and now it has become this amazing way to interact with our customers and get their perspectives on AI.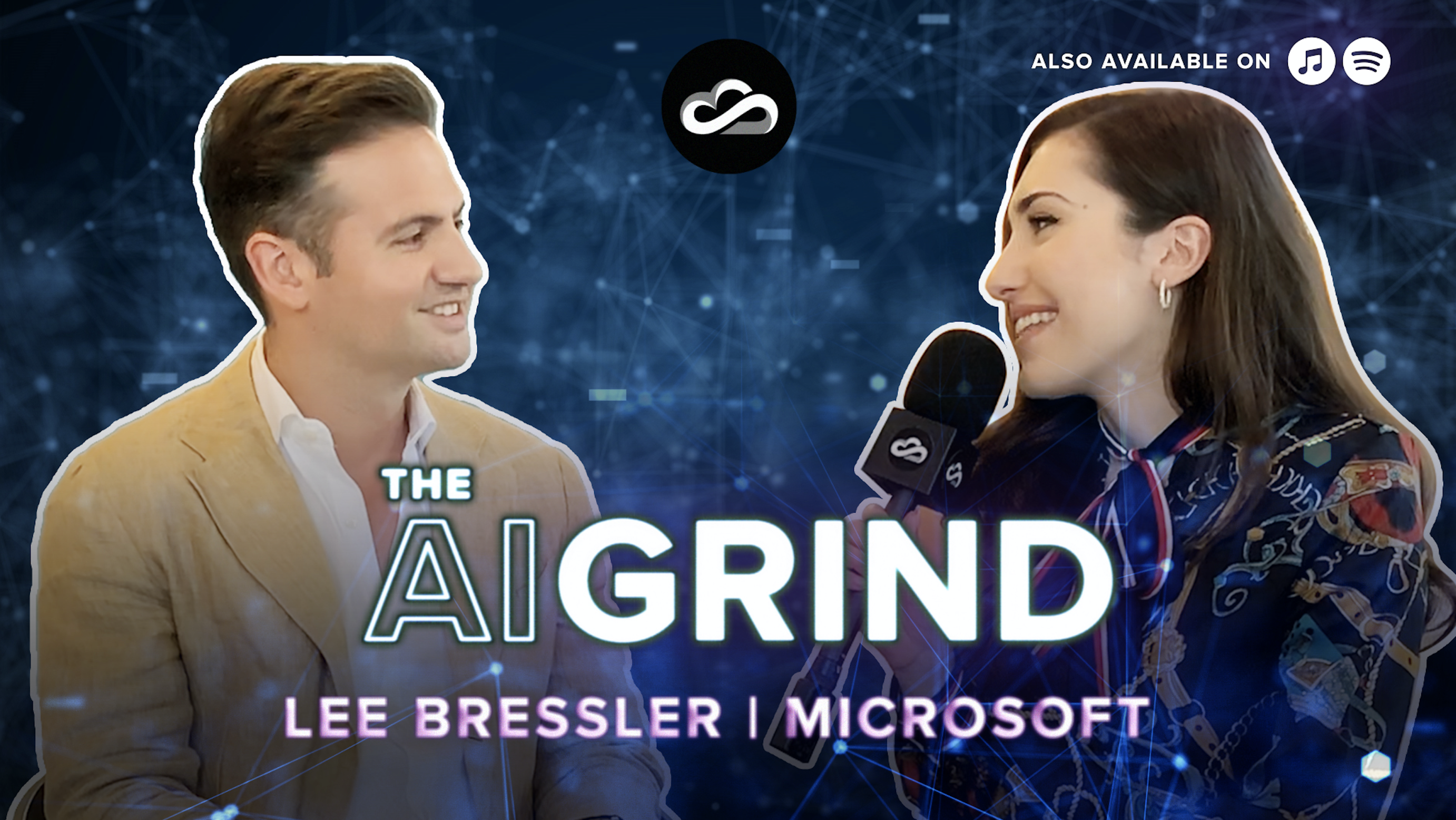 And you, Sachi, are doing a great job taking over social media this summer, by the way!
On the cultural front, I had the freedom to create an internal group called the Change Salon—with full executive support—where CogScalers get together and discuss relevant issues facing the workforce today. It's things like this that, selfishly, really make me feel empowered and like I'm actually making a difference, no matter how small.
Sounds like you have that fantastic creative freedom, support, and passion. What makes it unique here?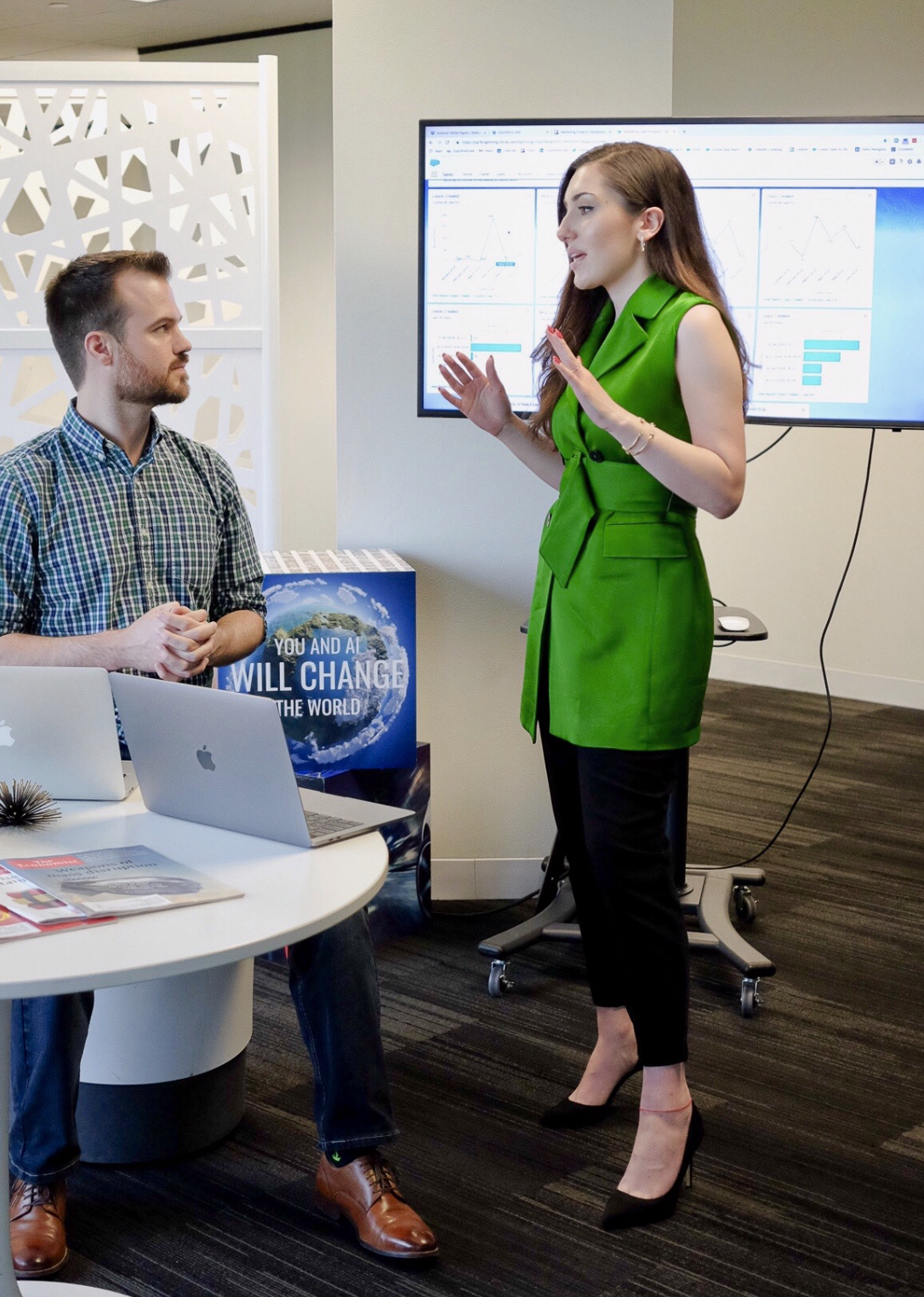 AS: Oh yes, to your question about how it's different from my other roles in marketing, CognitiveScale is, in a way, a world of its own. It's a startup, it's a small company, but it's so massive in its voice, which is always thrilling. Let's say I come to the office with an idea of what my to-do list is. By 9_30 AM, that to-do list no longer applies. I have 50 new things that I need to get done urgently, because that's how quickly things change in this space. That, to me, is so exciting. It's as exciting as it is challenging. My previous role was very process oriented, and you knew exactly what you were going to do every day. It got kind of dull at some points, and that's absolutely not the case here.
Keeps you on your toes! Perfect. What are some of the misconceptions you think are frequently applied to being in the marketing field?
AS: Anytime I tell non-marketers what I do for a living, they kind of raise an eyebrow, and they're like, "What exactly is that?" They have no idea what marketing entails; they think, "All you do is put a pretty graphic together, you tinker with your website all day, and you send out those annoying spam emails." That's not at all what it is. You have to be really mindful of everything that you create. You have to be super detail oriented. You have to research. You have to meet with subject matter experts and work together with a lot of people across the entire company to create this voice. I, Arta Shita, am not the product person, nor am I the mastermind behind CognitiveScale. I just have to meet with those people, pick their brains, and find a way to tell that story beautifully and with impact.
That is so well said. Marketing definitely deserves that respect. On the same kind of train, what has it been like to be a woman in tech, either in school, or the workplace, or both?
AS: Being a woman in tech in 2019 is honestly, dare I say, fun. I think women can really take advantage of being a woman in tech, and not very many women do. I think with anyone, if you walk into a room and you're the only one of that person—whether it's skin color, ethnicity, gender, or anything—you're going to feel extremely overwhelmed, and you're going to wonder, "Do I even belong here?"
You're going to second guess yourself to the max while you should be taking advantage of being the only type of that person in that room and really grab attention. If you're the only woman in that room, speak. Nobody else has that kind of voice, right? Just speak. Don't be afraid. I realize it's easier said than done, but if you are the only woman in a room, and you don't take advantage of it, then you are not only doing yourself a disservice, but also fellow women in that company. Otherwise, others will think, "Oh, okay, the stereotype is true. Maybe they're not as tech savvy or as confident as I am." You just have to really work hard to break that stereotype.
Do you feel like being that only woman used to intimidate you, or have you always taken advantage of it?
AS: I don't know. My mom is such a strong woman, and seeing her and her vibrant personality, and how she really was never scared—even when she knew two words of English, she would try to talk to people, try to get her voice heard, and try to get her message across. That has impacted me my entire life. Because of her, I've never been scared. If you are the only woman in the room and you can be that woman inspiring others, what more do you want?
That's such a great way to look at it, like instead of feeling helpless to turn that into a power or advantage. So, shifting gears a little, is there a particular field of AI that most intrigues you or that you see to be the most "world changing"?
AS: AI totally, in every sense of the word, will change the world. It already has. AI is already everywhere. It's crazy. People don't even realize it. Netflix is over here recommending what you should watch, and it's right most of the time—and that's not even particularly revolutionary.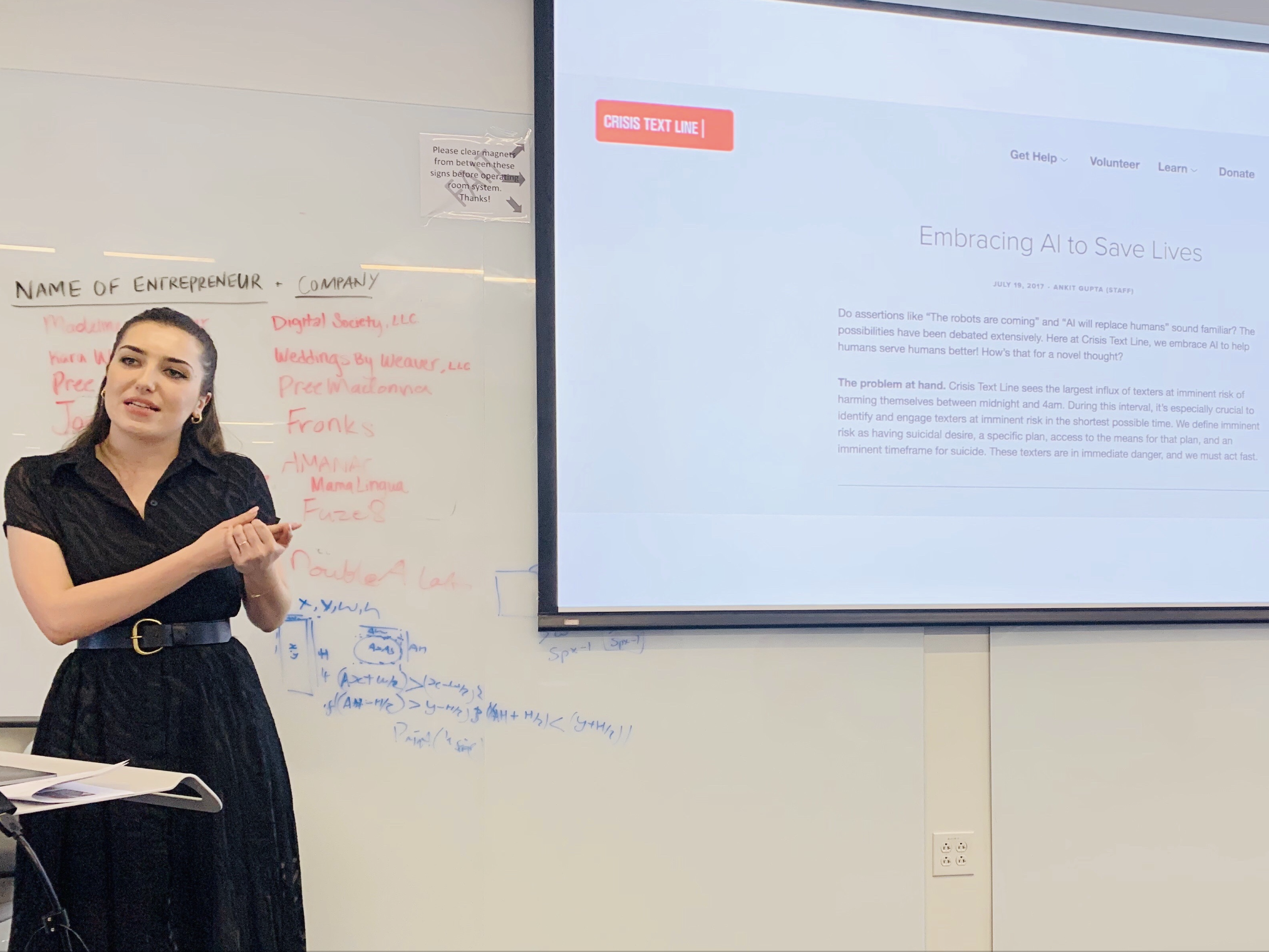 I'm not sure if I can pinpoint a specific field in which I think AI will make the most difference—mainly because I firmly believe it will change every field—but a space that really intrigues me is education. I come from a long line of educators, so I'm looking forward to seeing how AI will impact how we learn in the near future—be it from what new courses students will be taking to what educational AI tools will be created. This year our Executive Chairman, Manoj Saxena, taught a class on "Ethics in AI" at the University of Texas, which I audited and was a guest speaker. When I was in college, I couldn't dream of taking a class like that. It was so cool to be part of it and get a glimpse into what future generations will be learning.
I agree. Education is such a vast field with so much potential for change I'm getting excited. Okay, what inspires you? It can be literally anything.
AS: What inspires me...hmm. Like I said earlier, this is so cheesy, but it's really true....the thought of positively impacting people or things really inspires me. I think it takes a lot more effort to be bad than it does to be good. As long as we're responsible—#ResponsibleAI—and we come to work every day with the notion of, "Okay, I'm going to do something good today," whether it's helping a fellow colleague or contributing to an impactful project...whatever it may be, I think that's really what inspires me.
I'm inspired. I totally get that. Before the last question, I'm going to ask you a few little "this or that" questions, just for fun. Try to answer as fast as you can with no thinking. Ready?
AS: Ready.
Augmented or artificial?
AS: Definitely augmented, because you keep the human in the loop, always.
Coffee or tea?
AS: Both. I feel like in the morning, coffee; in the afternoon, tea.
Healthcare or finance?
AS: Healthcare, for sure.
Hiking or spa day?
AS: A spa day! Are you kidding? Who would say hiking?!
Books or movies?
AS: Books, for sure.
Sweet or salty?
AS: Sweet.
Standing desks or sitting?
AS: Standing. I am so much more productive at my standing desk!
Wow, now we know so much more about you! Okay, last question. This one is serious. What is your advice to young women?
AS: My advice to young women is something I learned from my previous manager, Ganesh. He always told me it's better to ask for forgiveness, not for permission. That changed my life, truly, because I was always extremely cautious, and super "I never want to do anything wrong," and such a perfectionist. I thought I always had to cross my t's and dot my i's before taking action, but really just go ahead without asking permission for anything—a great idea you have, a great project you want to be a part of...just go for it. Don't hold yourself back, because more often than not, people are going to see your tenacity, they're going to see your drive, and they're going to be like, "Wow. She is fantastic, because she knows what she wants, she goes out and gets it, and she doesn't ask anybody." Do you see your male colleagues asking for permission?
Nope!
AS: Nope, that's right. So that's what I would say, ask for forgiveness, not permission.
>I feel inspired and hope that the women and men out there are hearing this! Thank you so much for your time and words of wisdom, Arta. You have such a vibrant and determined personality.
Share this page