Articles
Wednesday, June 26, 2019
"We've only got ten years—what will you do?": CogX 2019 Reflections
CogX 2019 brought together 20,000 innovative and thought-provoking leaders in the AI space to discuss the rapid growth of AI, emerging technologies, and responsibility. 687 diverse speakers with over 200 hours of content came together in London to lead insightful conversations and share ideas with over 600 million viewers worldwide. Whether from positions in government, industry, academia, or charities, people shared dynamic content and their commitment to globally standardize fair and responsible AI.
Our Executive Chairman, Manoj Saxena, hit the stage with Chris Corrado, COO and CIO of the London Stock Exchange; Sherry Coutu, Founder of Founders4Schools; in a session on Innovation, Finance, and Economy.
Chris began by introducing some of the demands of the fast-paced, innovative society we live in today: storage of data, scalable computing, and high speed mobile connectivity. There is this "cloud" that is empowering businesses and personal lives, but how do we regulate the risks? How do we employ market surveillance to ensure fair markets, and how do we improve quality of data and analytics?
The London Stock Exchange (LSEG) is working with partners to develop their own algorithms to employ market surveillance and using techniques like natural language processing (NLP) to improve data quality and provide stable systems. Data is imperfect at a given time, Chris explains, but we must implement strategies to make sure transparency is present in recommendations and decisions. For every tech endeavor--whether blockchain, crypto currency, mobile workforce, or quantum computing--we must get in front of the risks.
Manoj explains that the world of AI is dynamic, and that makes it even more important for governance to manage bias, discrimination, and regulatory issues as a brand is growing. Sherry follows this up by asking what is going on in respective organizations to equip people to use AI responsibly. Are standards being adopted at a global level? Chris explains mandatory training of external and internal people as well as inviting industry icons to come create awareness about the issue. As for standardization, Manoj explains the exciting development of CognitiveScale's platform to test for robustness, explainability, fairness, and bias. Though 90% of today's AI models operate on this "black box" system, we want to and need to begin solving that problem.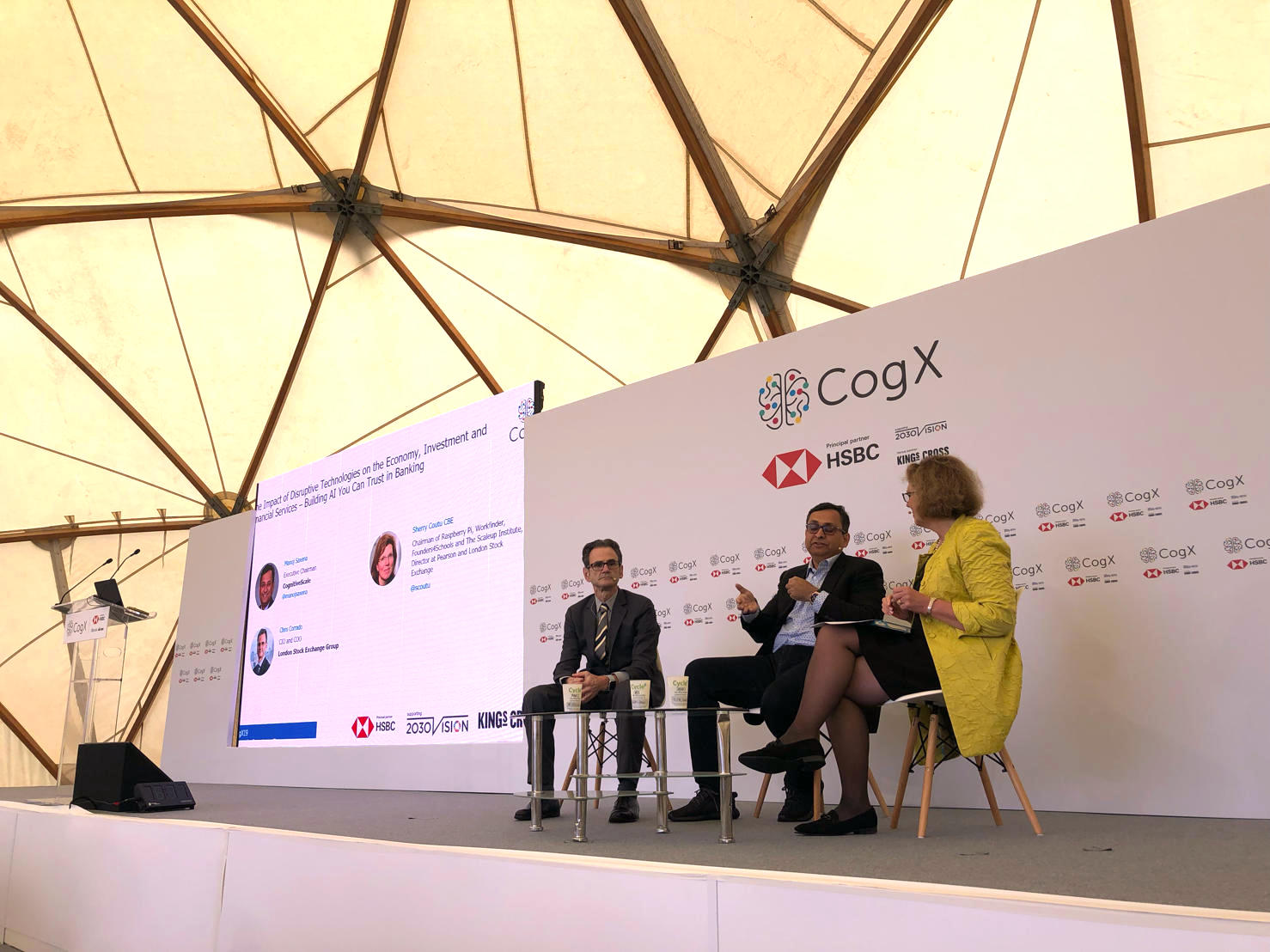 Final advice?
Manoj: Don't obsess about the AI, obsess over the business outcomes. Too many people start companies because of obsession with technology when you need to be obsessed with the customer.
Chris: Make your people smarter with AI and solve higher order problems. Don't use it as a replacement or elimination of people.
In the next session, Transformation in the Age of Machines, we were able to hear a conversation between Manoj and Ashok Vaswani— Global Head of Consumer Banking and Payments at Barclays—focus on the human aspect of the AI transformation.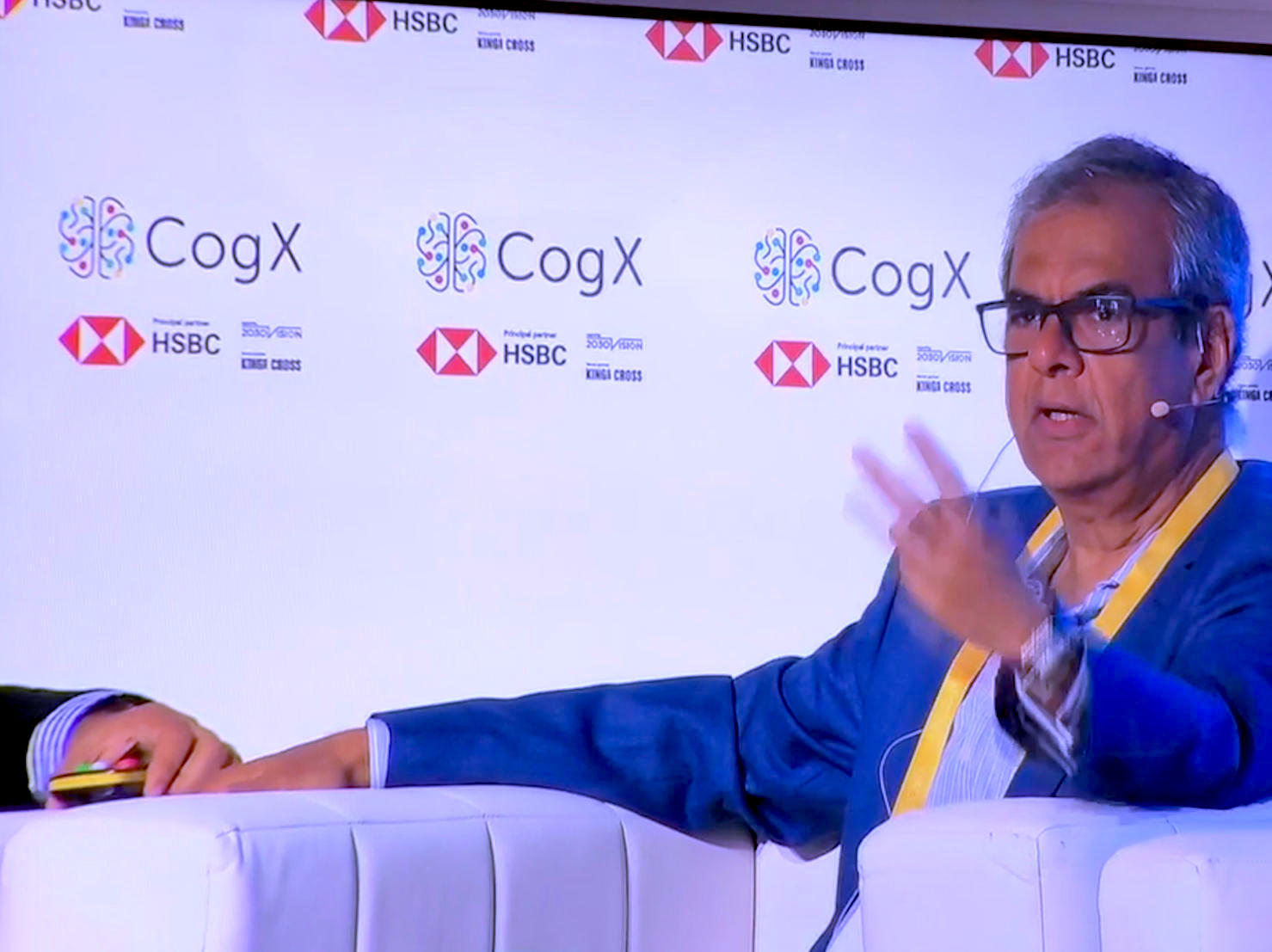 In this day and age, consumers communicate, entertain, work, and function using technology that is rapidly changing. Technology is a huge cost to industries (financial services spends more on technology than tech companies themselves!), but what is the impact on the customer? How do we have the right culture and mindset during this transition?
As Manoj said, AI in his mind stands for two things_ "amazing innovation and artificially inflated." If something does not learn and is not transparent and trustworthy, it's not AI. Every company must start with some sort of ethics charter. Vaswani mentions 3 things that are slowing down AI progress_ hype/misperception, data challenges, and trust issues. He discusses the work that Barclays puts into managing the risk and looking at AI inside and out. Both leaders agree that business leaders must start first by thinking about the customers and the outcomes and the technology will follow that. People first.
To check out CogX sessions and learn more about all things AI and emerging technology, visit the CogX Youtube Channel. We look forward to staying in touch with you as we move through this exciting time in technology and the world!
Share this page