Articles
Friday, October 28, 2016
Winning with machine intelligence at Cognite2016 - Global leaders share AI best practices
Cognite2016 is a wrap! CognitiveScale would like to thank everyone who attended last week, especially our customers, partners, and friends who shared their perspectives and discussed how cognitive computing is improving their businesses.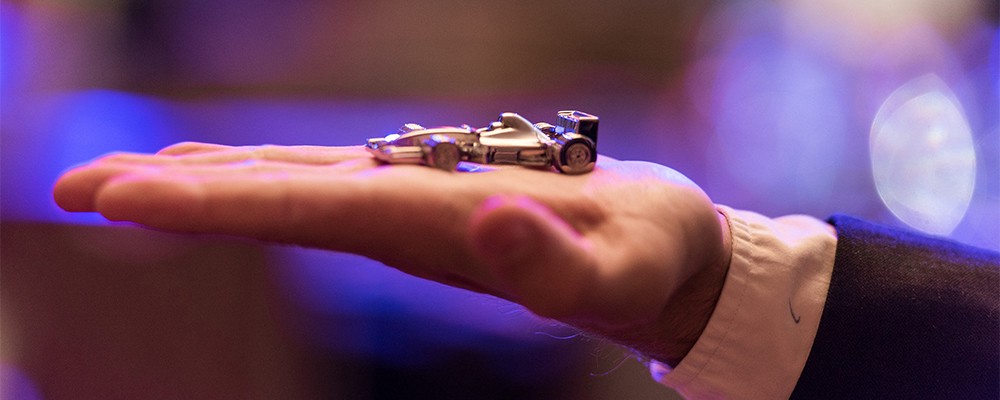 The theme of Cognite2016 was clear — every user engagement, process, and business that can be transformed by cognitive computing will be.
We're seeing this evolution happen today in massive industries like healthcare, financial services, commerce, and procurement. We were fortunate to hear about these changes first-hand from leaders like Chris Belmont from MD Anderson, Kate Walmsley from Warehouse Fashion, Akshaya Bhargava from Barclays, Paul Roma from Deloitte, Boe Hartman from Goldman Sachs, Rob High and Jesus Mantas from IBM, Rolf Harms from Microsoft, Promod Haque from Norwest Venture Partners, Vibhor Rustogi from Intel and Michael Guptan from Dell.
CognitiveScale's Chief Executive Officer, Akshay Sabhikhi kicked off the conference talking about machine learning not being transformative by itself; it becomes a powerful new tool when combined with other technologies like mobile, cloud, big data, social, and blockchain and designed with the experiences of tomorrow. He said " Every business and every process we can imagine will be transformed. This is the new enterprise IT stack, and as it takes shape we will begin to see it makes business better as well as our professional and even personal lives more enjoyable. It's abundantly clear that AI is taking a big step into the enterprise, a trend that is only going to grow into 2017 and the future."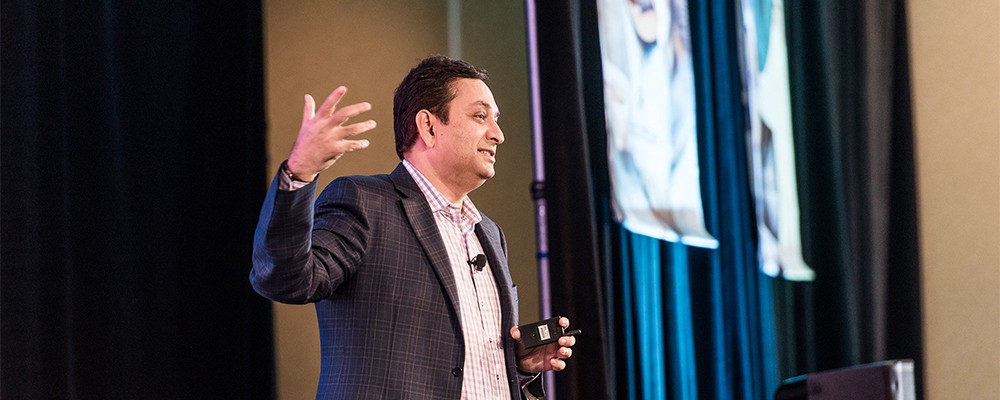 Today's enterprises are spending billions on IT but still not getting the outcomes they set out to achieve. Cognitive computing represents the opportunity to reimagine business models and systems at exponential levels. As CognitiveScale's Chairman, Manoj Saxena pointed out in his introduction, "The winners in this space are focusing not on AI as a science, but AI as a strategic capability that makes people superhuman. We're going to see this shift transform necessary and expensive processes like procurement, democratize investment advice, and deliver world-class healthcare no matter where you live. As more businesses gain core AI capabilities, we're destined to see major changes in how businesses are run and the insights they're able to deliver to themselves and customers.
It's about making every business a cognitive business — a business that learns and improves with every user interaction while also learning about and improving itself.
Here are just some of the examples of this shift happening now.
Transforming How We Bank
Akshaya Bhargava, CEO Wealth & Business Banking at Barclays, talked about the risks banks face today. He added, "Banks have a lot of customer data but don't do a whole lot with it."
By converting data into insights, banks could perform more sophisticated fraud protection and deliver never before seen levels of customer fulfillment and personalization. A key challenge is that legacy systems are still prevalent in today's banking industry. Banks spend $73.4 billion on legacy system maintenance alone.
Cognitive computing enables banks to "think big but act small" according to Bhargava. By applying cognitive capabilities to tightly defined use cases, banks can create superior investment experiences for their customers. Banks can expect to see higher rates of usage and adoption when they choose the right approach. "Systemic innovation is important to move any business or industry forward. Anything can be done in 90 days as long as you define it properly," Bhargava says.
Bhargava is hopeful that transformation in the banking industry will happen_ "In 30 years, banking will be invisible. There is nothing wrong in being invisible. We just don't want to be irrelevant"
Another speaker, Boe Hartman, CTO Marcus by Goldman Sachs, also weighed in on the banking transformation on a customer panel citing his organization's to build a retail bank from the ground up using AI technology at the center.
For banks to stay relevant, they must transform.
Transforming Healthcare and Human centric care
As Chris Belmont, CIO of MD Anderson Cancer Center, puts it, "AI is already in healthcare." Imaging and diagnostics, drug discovery, lifestyle monitoring and clinical research are just a few of the areas where cognitive computing is having an impact on our health.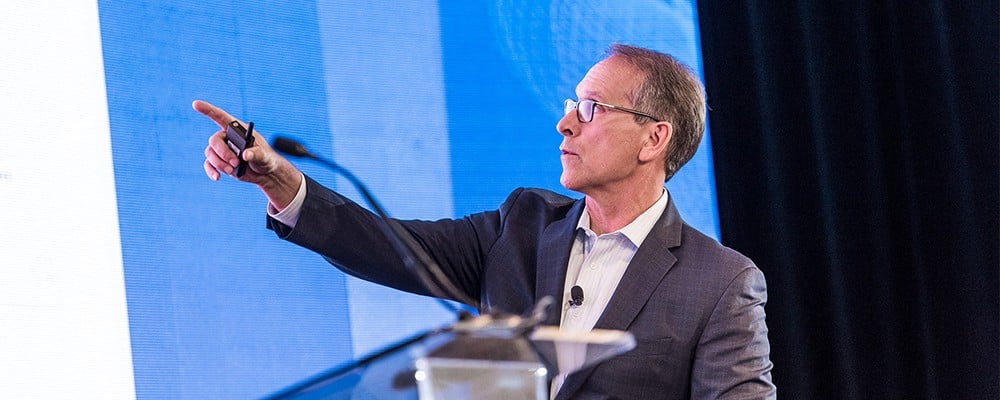 Belmont called out the volumes of "dark data in healthcare." Electronic medical records, healthcare guidelines, nutritional advice, socioeconomics, physical activity monitoring, and even information like environmental factors, news, and social media activity can all shed light on a person's health, but aren't being utilized today.
We can unlock better forms of healthcare when using cognitive computing to understand the 360-degree view of a patient's health, providing advice and insights to help prevent and treat disease. But AI needs to be adopted in an integrated and holistic way. "We can't go through a three-year EMR conversion. We need to change on a dime," Belmont says. It's about transferring policies and procedures as quickly as possible to patients.
And it's not just about delivering better patient service. Today's doctors are determined to cure cancer. How can cognitive computing be applied to healthcare IT and help accelerate insights into our most prevalent diseases? Applying cognitive computing to the terabytes of health data generated today could help the medical community put that information into context and help uncover cures.
"If we could turn this system loose it would be unbelievable what we could do," he added.
Transforming the Shopping Experience
Kate Walmsley is Customer Director at Warehouse Fashion, a 40-year old fashion retailer in the United Kingdom. She started applying AI capabilities into retail first at TopShop where she served as Digital Director.
Across her career in retail, Walmsley has explored opportunities to unlock true customer personalization and recommendations. Now with cognitive computing, she is seeing how far AI has come and how it can be applied to anticipate customer needs when they first enter the store — "The perfect shopping assistant," she calls it.
Cognitive computing can help retailers better understand a customer's browsing behavior to deliver personalized insights and recommendations for buyers. This is the holy grail — a retailer who learns and improves with every customer interaction. Today 72 percent of Millennials believe AI will be able to predict what they want.
In the not too distant future, Walmsley believes the "entire retail experience will become tailored to you."
No matter how great the insights, the future of cognitive computing will only succeed if adopted. As leaders in this cognitive future, we must deliver great experiences that engage and delight users.
AI is the New UI
As the much-heralded virtual personal assistants like Siri, Alexa, and Cortana learn more about us, we're going to demand that they not only know us and our preferences, but deliver that information in engaging and intuitive ways. Manoj said it best_ "The most beautiful software is invisible software." Cognitive technology needs to look like magic, such as an app that signals when a cop is waiting down the road, or notifies you when you may be exhibiting early signs of a stroke.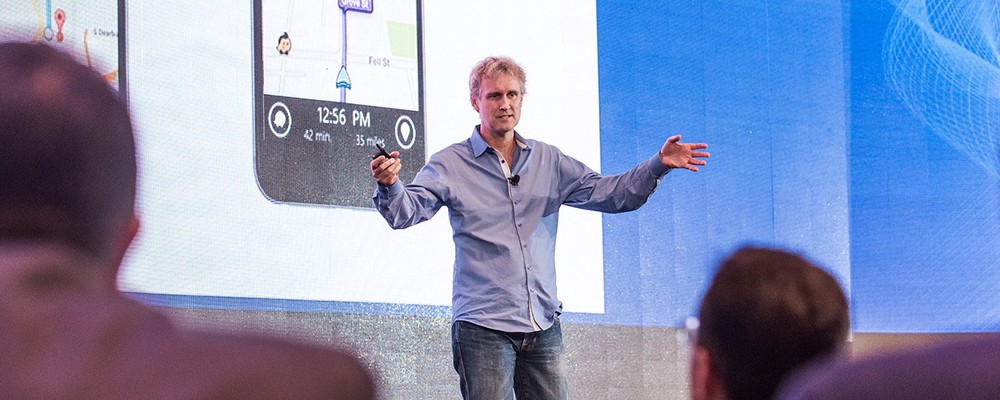 AI and new user interfaces like voice, gesture, and projection will make computing a more seamless and intuitive part of daily life, as Mark Rolston of argodesign demonstrated. And it's not simply a question of intelligent notifications, but of the relationship an AI-powered assistant builds with you to serve you better, inspire your confidence, and earn your devotion. "AI-powered computing is just as much a question of power as it is of character," said Rolston.
For many products, the user interface (UI) of the future will need to be cognitive. Rolston spoke of "enchanted objects" — or everyday objects imbued with advanced computing power — paving the way toward "enchanted spaces" — like a section of NYC overrun with people totally immersed in the mixed reality space of Pokemon Go. The game may well be the world's first mass market mixed reality experience. Now imagine what could happen with a little bit of cognitive technology thrown in. As Manoj said, "A little bit of AI goes a long way." Rolston summarized the opportunity when he said the combination of AI and mixed reality will help us "take interfaces out of boxes and into the world where we're doing things that make life actually life."
Rolston described his concept of the "meta-me," or the complex and manifold digital version of me that evolves with each online activity like my social media updates, shopping behavior, and browsing history. We can effectively mediate ourselves in the same way we can manicure a lawn, because so much of us resides online.
With thinking machines thrown in, the "meta-me" could become something much more than a digital copy. Your meta-self could engage with someone else's meta-self or a meta-brand like Domino's Pizza or Hertz, making decisions on your behalf that you are happy to off-load. We're seeing this already with a Google Allo that suggests what you ought to say or LinkedIn composing birthday messages for you to send to your friends. Rolston compared it to Cyrano de Bergerac lending Christian the words to woo Roxane.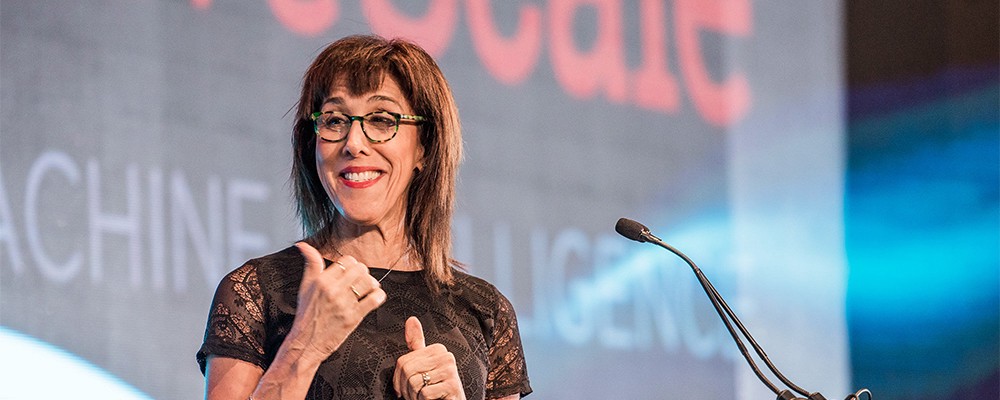 A challenge we'll face collectively, and technologists and designers in our industry have an opportunity to help shape the transition. It's one of the reasons that design leader Doreen Lorenzo, the MC of Cognite2016, has started the Center for Integrated Design at The University of Texas. UT is putting design at the center of an interdisciplinary undergraduate education that includes engineering, computer science, and the humanities. Local entities like UT, CognitiveScale, and argodesign share the belief that Austin could become known as a hotbed of research and development into human-centered AI, and that it is by definition an interdisciplinary challenge.
Anticipating the Challenges Ahead
A recurring theme of Cognite2016 was the transformation of our society as more jobs are automated and we'll need to adjust to a frenetic new pace of work.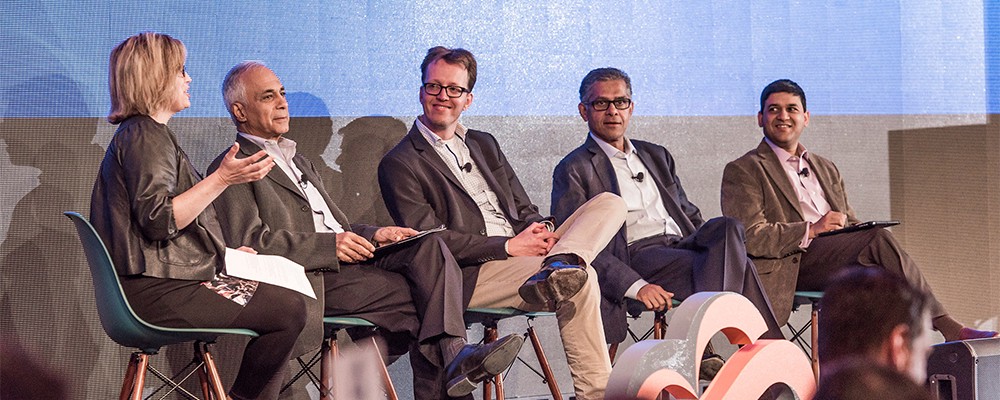 Cognite2016's Tech Giants panel touched on this topic with lead investors like Norwest Venture Partners', Senior Managing Partner, Promod Haque, calling for more investment in education that prepares tomorrow's workforce for growing opportunities in AI and other fields like cybersecurity.
Rolf Harms, General Manager, Strategy and Acquistion said, "the promise of AI is very exciting. At Microsoft we want to ensure that we build products that our customers can trust. Big Data is a good start but it hasn't delivered as was hoped. Microsoft's key emphasis is helping customers with digital transformation. We must bring AI and digital transformation together to truly get impact."
Google DeepMind already has an unsupervised engine that can learn on its own. Soon we'll face a constant stream of exponentially improving insights coming at us in real time. How will this effect our work lives and will we judge each other by the same standard of exponential improvement that endows these machines?
AI is going to be an instrumental piece in augmenting our best qualities and helping us work smarter. As CognitiveScale likes to say, "It's man and machine," the combination of human and machine intelligence to accomplish what neither could do alone. Michael Guptan, Managing Director of Dell Ventures, agrees saying it is "not just about the technology. It's about people and processes." Even when we can predict what is going to happen, this information is useless unless well-trained people can act on these insights. He added "Dell is making big bets in a few key areas. Big data solutions, next gen data centers, mobile and security and all of this running in the cloud."
But how can AI help the world address some of its biggest challenges? Vibhor Rastogi, Director of Intel Capital, talked about the opportunities for AI to alleviate issues in areas like food production. Using crop-monitoring drones and water and soil sensors, companies like Monsanto are redefining the process of food production at scale. According to Rastogi, Monsanto "thinks of themselves as a big data company. They want to be able to tell each farmer what is best for them and their farm."
Redesigning Work in the Cognitive Era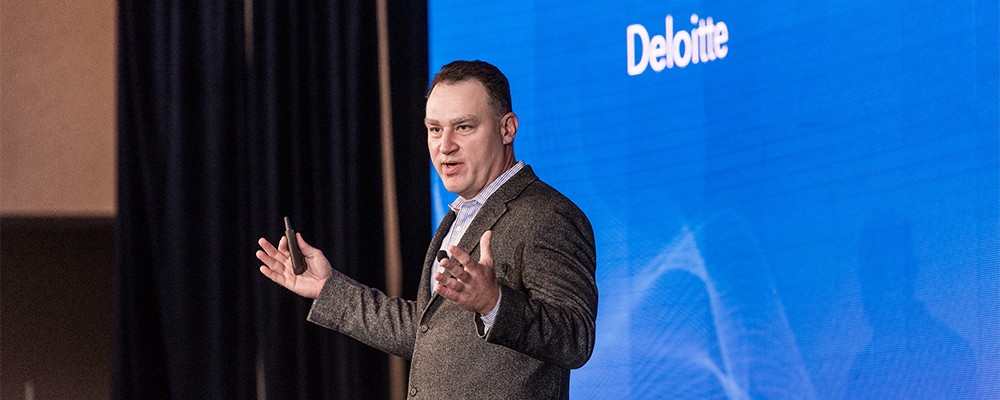 Kicking off his talk with a provocative question, Paul Roma, Chief Analytics Officer at Deloitte asks "What if 50% of IT shops stopped building and started training for intelligence?" Cognitive technologies is changing the landscape as we know it. Every 18 months these systems get twice as smart.
"Cognitive technologies will drive exponential value through continuous learning and this will have a tremendous impact on human labor. The future of work will not be about a task. It will be about the intimacy of the experience and about the customer and teaching them how to think differently."
Cognitive Systems and the of future of procurement
"Cognitive systems amplify human cognition," said IBM Watson CTO, Rob High. If you really want engagement from the end user, conversational AI is key. Add a natural language interface to your application to automate your interactions with end users. Conversations drive customer experience. Joining him on stage, Jesus Mantas, GM, IBM Business Consulting told the audience, "The fusion of technology and business consists of three things_ enhancing your client experience, optimizing your enterprise processes and creating new business models. Only 30% of corporations actually follow their corporate purchasing guidelines." Cognitive technologie
Another speed bump is the looming shakeout in the AI sector. CognitiveScale believes three things matter for winners_ industry-specific innovation, outcomes delivered in weeks rather than months or years, and collaborative, strategic partnerships. You just can't do this alone — you need an ecosystem.
Closing Thoughts
Where we're going is a world that's becoming our browser, and we are the cursor — our voice, our location, our applications.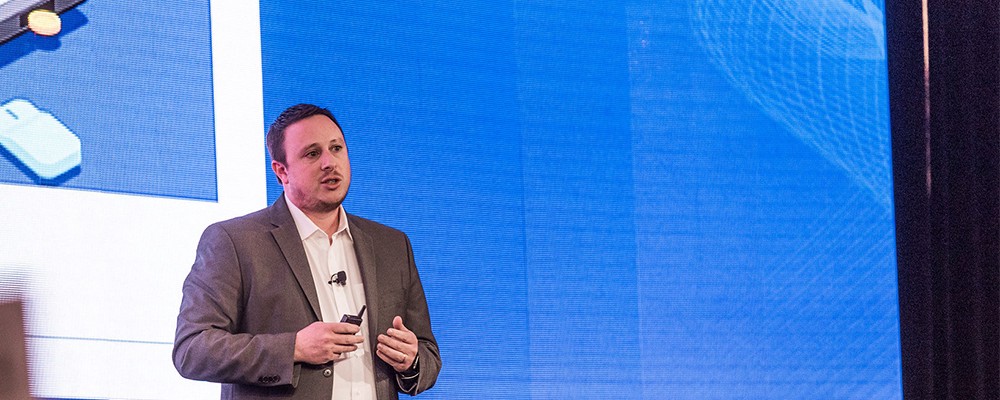 Matt Sanchez, CTO of CognitiveScale, closed the conference with an inspirational look at the "Golden Era" unfolding in AI. Three key elements of this Golden Era are self-learning business processes, JARVIS suit-style fusions of man and machine, and the "Profile of One" — or the intimate understanding of individual users derived anonymously and privately in the cloud. We saw the potential for the "Profile of One" in the Microsoft HoloLens shopping demo, showing the power of cognitively enabled mixed reality experiences to lend us insights into our own behavior and help streamline decision making.
Together man and machine make it possible for AI to become the new UX. We must bring together data, insights, and experience into a tech stack that integrates well with enterprise architecture, meets security requirements of regulated industries, and provides a human-centered experience for users.
Sanchez speculated on what's to come down road. What might we be discussing at Cognite2017? In between the roar of the race cars a year from now, we might be talking about "cognitive potential" as the newest KPI for organizations. Not data mining but intelligence mining will be the new oil. Blockchain and the resulting Internet of Trust will be mainstream.
Five years from now, we might experience cloud-scale digital brains, and well-established self-learning processes. In many everyday situations, cognitive engines will zero in on the one piece of information we need in order to take action. AI-powered mix reality may be pervasive by then, and Sanchez highlighted this as a particularly golden opportunity to humanize the world around us, through the fusion of the real and virtual.
It's certainly an exciting time to be working in AI, and on behalf of everyone at CognitiveScale, we wish you all a successful year and look forward to our continued work together.
Thank you and see you at Cognite2017!
Share this page